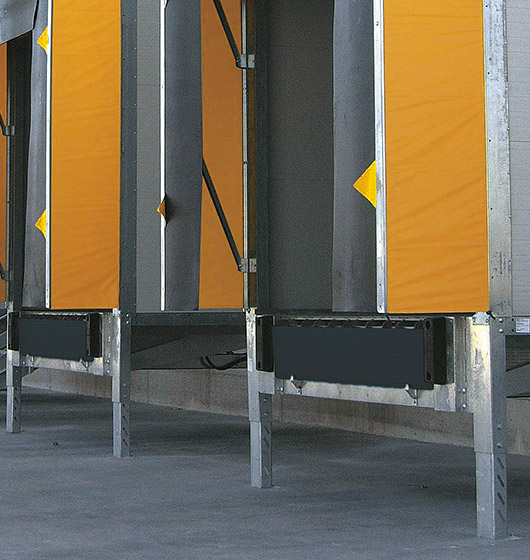 The Campisa modular bench is an ideal solution for those who need to create loading points outside the building without intervening with expensive construction works.
It is a carpentry structure without sealant which acts as a platform for the loading and unloading of goods.
The Campisa prefabricated quay is used as an alternative to the Dock Kouse to bring the loading point outside the existing factory.
The modular prefabricated quay allows you to avoid building works (with modifications to the building) and speed up the loading point preparation times; moreover, it remains a temporary solution which can in turn be easily removed.
The structure is anchored not only to the rear side of the building, but is supported by 2 or 5 legs bolted to the ground and adjustable in height to best adapt to the existing floor inside the building.
It is almost entirely made up of galvanized elements (welded and/or bolted together) and can incorporate the standard models of Campisa ramps (width 2000 and 2200; depth 2500 and 3000; radius 360/430 and telescopic 500/1000) with the their mega, super and floating bumpers.
On the sides of the ramp, the quay provides pedestrian areas reserved for users and adequately secured with non-slip adhesive tape, and with any side balustrades available as additional accessories.
The quay therefore represents an external and completely uncovered loading point; if you want to cover the quay (even at a later time) from atmospheric agents, you can combine a Dock Tunnel: retractable cover and placed on the same quay.
As a standard, the quay is perpendicular to the facade of the existing building; on special request it can be oriented with respect to the latter by 30°, 45° and 60°, to facilitate the maneuvering of the vehicles at the loading point.
Contact us for a free consultation and find out the best logistics solutions for your needs.
Looking for other solutions?