5+1 Campisa tips to avoid error risks in logistics centres
Pubblicato il 12 October 2022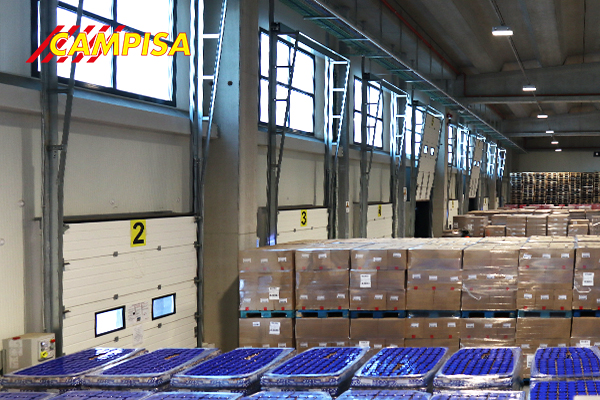 Organising warehouse space correctly in logistics centres is a very complex challenge for a company.
For this reason, the professionals at Campisa have identified 5+1 tips for you to avoid the risk of error in organising your warehouse.
Tip number 1: don't overstock your warehouse
The first rule in an industrial warehouse is to keep a minimum amount of products. Many companies are often in the habit of accumulating excessive quantities of goods, for fear of incurring a stock shortage. In this way you run the risk of saturating your warehouse.
Our advice to you is to renegotiate the delivery agreements with your suppliers to change the mode and timing.
Receive larger batches of goods in split deliveries; this way you can even reduce your storage costs and avoid saturating your warehouse.
Tip number 2: Respect and enforce all safety regulations
Any kind of accident within a logistics hub or warehouse can jeopardise the entire operation. Make sure that all personnel are well trained and comply with all safety regulations.
As far as environments are concerned, especially those in the vicinity of loading bays, organise the spaces with road markings to create mandatory routes for vehicles and personnel to follow.
Tip number 3: Maximise shipping efficiency at loading bays
Freight forwarding is a truly critical operation to meet delivery schedules. To make these operations efficient, work constantly to improve organisation at loading and unloading bays or in any area designated for shipping.
Check that the tools to process a shipment are grouped correctly and that the operators perform their tasks correctly.
Carefully check each shipping process and think about what can be improved to increase productivity and safety.
Tip number 4: Invest in technology
In 2022, technology within a logistics hub can be an essential added value for process optimisation.
For this reason, we recommend equipping your industrial environments with automated warehouses, robots and digital software to manage logistics effectively and safely, when you have the opportunity to invest.
Tip number 5: Minimise errors in inventory management
To avoid the accumulation of errors in stock management, we advise you to focus on all aspects of the production chain and the related variables that can generate problems on these aspects (points, flows or products) by taking timely action to eliminate them.
Tip number 6: Rely on professionals
To optimise a logistics hub, you need to turn to professionals in the sector. For 50 years, we at Campisa have been helping companies maximise their logistics and warehouse performance by supplying loading bay equipment.
To find out what we can do for your company, we invite you to book a free consultation. By calling the toll-free number you can speak directly with one of our technicians about your needs.
If you would like to receive a quotation on our products, you can fill in the form below. You will be contacted within 24 hours of your request and provided with a detailed quote.
Whether you need loading ramps, sectional overhead doors, electro-hydraulic consoles or sealants: put your trust in Campisa.