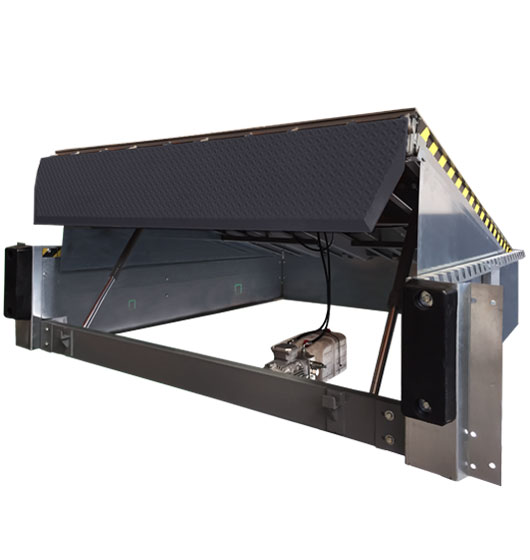 The Universal loading ramp is designed to be installed on different loading points and is entirely made by structural steel S355.
This model is particularly suitable for those who need to replace old loading ramps already present in existing loading docks.
Main features:
Spout with tapered corners, standard color RAL7005 or RAL 2000
TWO hydraulic lifting cylinders
Motor at the front, safer and easier to control.
The self-cleaning lip of the ramp does not retain in the hinge the debris present on the dock (pieces of pallets, nails, screws, bolts).
The Ramp-platform connection does not have sharp points that could cut trolley's wheels: our patented system has a rounded connection, whatever the inclination of the ramp would be.
Standard dimensions are: 2000 or 2200 mm.
Length should be calculated to maintain inclination within the grades acceptable for forklifts (generally 8% and 4%).
Floor, spout and reinforcements made with S355 structural steel. Anodized or Stainless-Steel finishing can be applied when the ramp is in high humidity or wet environments.
Standard capacity (concentrated on lifting trolley, as per EN 1398 standard) from 6000 kg to 9000 kg.
Star: application for pits built the traditional way. Front beam fixed with dowels and rear hinges welded.
Fop: installation of a prefabricated casting in the pit, after "wet works" are completed.
Cast: application for finished ramp complete with casting. It must be leveled and cemented once at floor level.
Fly: application for suspended ramp. A self-supporting front cross beam can be installed when pits have tail lift.
Contact us for a free consultation and find out the best logistics solutions for your needs.
Looking for other solutions?