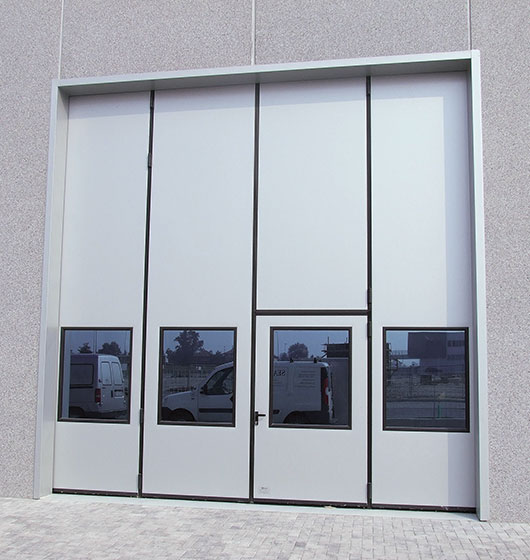 The Campisafold folding doors are made with vertical panels hinged together, with horizontal folding opening.
These industrial doors can be supplied with or without floor guide and the opening can be manual or motorized.
Large portholes can be inserted to each of our Campisafold folding doors. The portholes can be: simple, coupled glass or with glass chamber.
Queste porte industriali possono essere fornite con o senza guida a terra e l'apertura può essere manuale o motorizzata.
Inoltre, su ogni nostro portone a libro Campisafold è possibile inserire oblò anche di ampie dimensioni, in vetro accoppiato semplice o con camera.
The Campisafold can also have a pedestrian door with panic bar, that can be approved as an escape route when a separate emergency door is not present.
The vertical section of the door, motorized or manual, occupies a footprint of 160 mm; it can be fixed vertically on the beam or directly on the ceiling and is complete with front cover, protecting the mechanisms.
Get your free consultation to find out together with our technical specialists what are the best logistics solutions for your industry.
Looking for other solutions?