Campisa UK Ltd will be attending the largest English logistics fair, from 24th to 27th September 2019
Pubblicato il 5 September 2019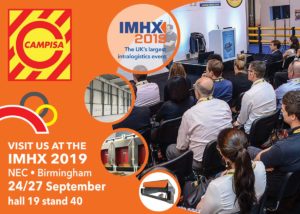 Campisa UK Ltd is proud to announce its participation at IMHX 2019 in Birmingham, the UK's largest intralogistics trade fair.
The event, scheduled from 24th to 27th September 2019, provides industry experts an expo area with over 400 exhibitors, as well as meetings, forums, insights, demonstrations and more.
More than 100'000 square meters of exhibition, located in the pavilions of the National Exhibition Centre in Birmingham, to learn about the latest news, discuss industry trends, get in touch with new customers and realities, take stock of the current state of logistics.
Campisa's participation at IMHX 2019 confirms the company's growth in the UK Market and around the world.
Getting in touch with thousands of people, professionals and international companies is a key aspect of our brand philosophy, always in search of innovation.
We look forward to seeing you at stand 19H40 to show you our new Fast Action Doors and the new two-cylinder Universal loading ramp, as well as the loading bays and our patented Fidelity® for sectional doors.
More information: www.imhx.net